Covid 19 Update for Sunningmead Community Centre
USUAL ACTIVITES ARE NOT RUNNING
BUT WE ARE HOPING THAT AS GOVERNMENT GUIDELINES ARE CHANGING SOME WILL BE STARTING AGAIN SOON
THE SUNNINGMEAD RECEPTION OFFICE IS OPEN AT REDUCED HOURS,
AT PRESENT MONDAY, TUESDAY & WEDNESDAY MORNINGS AND THURSDAY & FRIDAY AFTERNOONS
WE ARE NOW OPEN FOR GENERAL ROOM BOOKINGS
WE ARE TAKING PARTY BOOKINGS TO START FROM 1ST SEPTEMBER 2020 ONWARDS
COMFORT HOMECARE ARE STILL RUNNING THEIR SERVICE FROM SUNNINGMEAD
more updates will be available once they have been confirmed
THANK YOU FOR YOUR PATIENCE AND STAY SAFE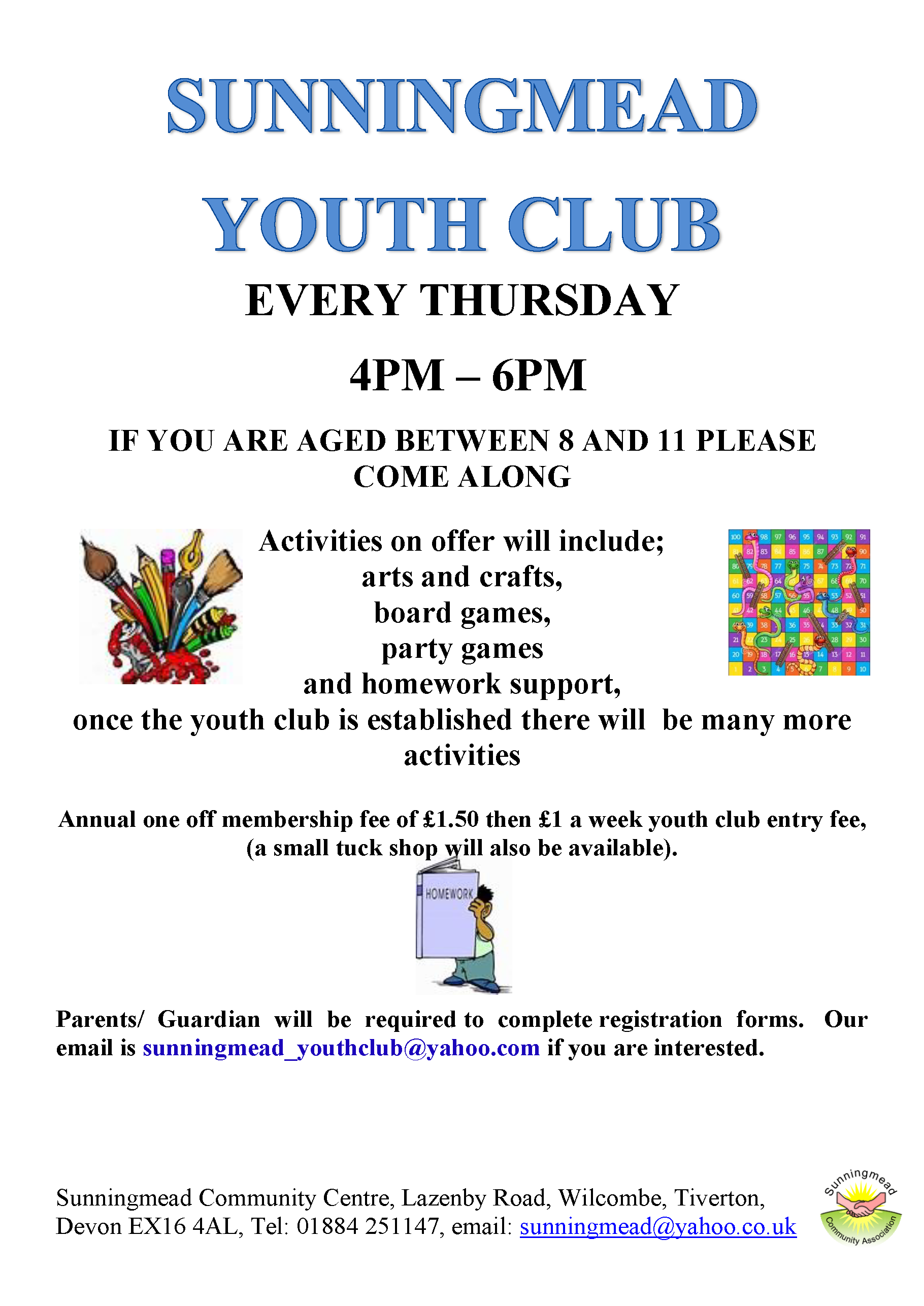 Sunningmead Youth Club
EVERY THURSDAY STARTING
4PM – 6PM
IF YOU ARE AGED BETWEEN 8 AND 11 PLEASE COME ALONG
Activities on offer will include;
arts and crafts,
board games,
party games
and homework support,
once the youth club is established there will be many more activities
Annual one off membership fee of £1.50
then £1 a week youth club entry fee,
(a small tuck shop will also be available).
Parents/ Guardian will be required to complete registration forms.
Our email is sunningmead_youthclub@yahoo.com if you are interested.
Have you a couple of hours to spare?
We are looking for people to join our small team running The Sunningmead Youth Club on a Thursday from 4-6pm. No experience is required just a passion for having fun and working in a small team.
We would also love to hear from you if you have just an hour to spare 3.50-4.50 to sign kids in and run a small tuck shop.
Email Lynn if you would like to know more
on sunningmead_youthclub@yahoo.com
Tiverton Youth Club are collecting any old boxes, cardboard, plastic bottles for a junk modelling activity.
So if you have anything you wish to get rid of please bring to the centre or contact Lynn or Lauren on 07761042766, they would happy to take it off your hands.
Sunningmead Community Centre,
Lazenby Road, Wilcombe, Tiverton, Ex16 4AL. Tel: 01884 251147 email: suningmead@yahoo.co.uk
Contact Us
Sunningmead Community Association
Sunningmead Community Centre
Lazenby Road
Wilcombe
Tiverton
Devon
EX16 4AL
Telephone: 01884 251147
Email: sunningmead@yahoo.co.uk
Social Media