History of Sunningmead Community Centre
Below is a summary of some of the news stories and updates since the Centre began.
In the centre one of our amazing volunteers has compiled some folders which document the history with press cuttings, letters, meeting minutes and more.
Do call in and have a browse through.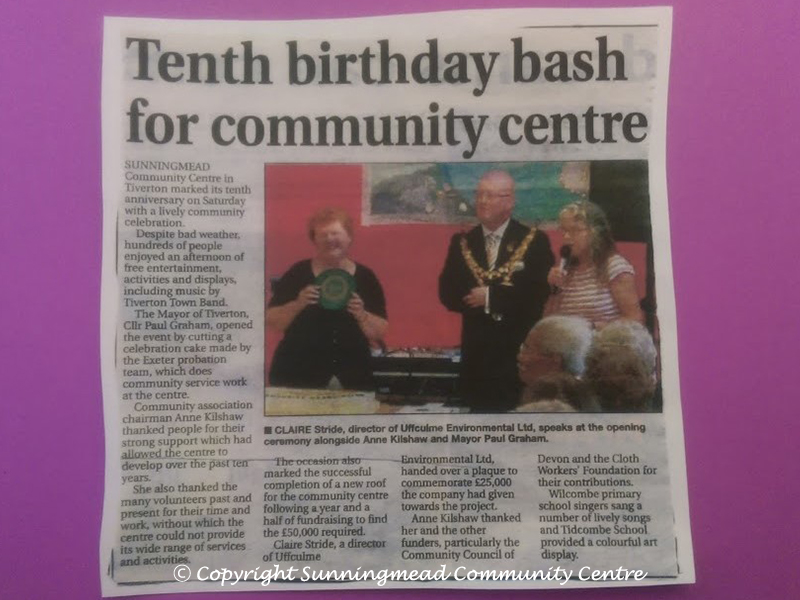 10th birthday celebrations
Tenth Birthday bash for Community Centre.
Sunningmead Community Centre in Tiverton marked it's tenth anniversary on Saturday with a lively celebration.
Despite bad weather, hundreds of people enjoyed an afternoon of free entertainment, activities and displays, including music by Tiverton Town Band.
The Mayor of Tiverton, Cllr Paul Graham, opened the event by cutting a celebration cake made by the Exeter probation team, which does community service work at the centre.
Community Association chairman Anne Kilshaw thanked people for their strong support which had allowed the centre to develop over the past ten years.
She also thanked the many volunteers past and present for their time and work, without which the centre could not provide services and activities.
The occasion also marked the completion of a new roof for the community centre following a year and a half of fundraising to find the £50,000 required.
Claire Stride, a director of Uffculme Environmental ltd, handed over a plaque to commemorate £25,000 the company had given towards the project.
Anne Kilshaw thanked her and the other funders, particularly the community Council of Devon and the Cloth Workers' Foundations.
Wilcombe Primary School singers sang a number of lively songs and Tidcombe School provided a colourful art display.
Volunteer Karina Wins Award
October 21, 2003
Voluntary worker Karina Southgate was the proud winner of a Millennium Award for racking up more than 200 hours voluntary service.
She is pictured here helping three year old Courtney King at a family Arts and Crafts workshop at the Sunningmead Community Centre n Tiverton.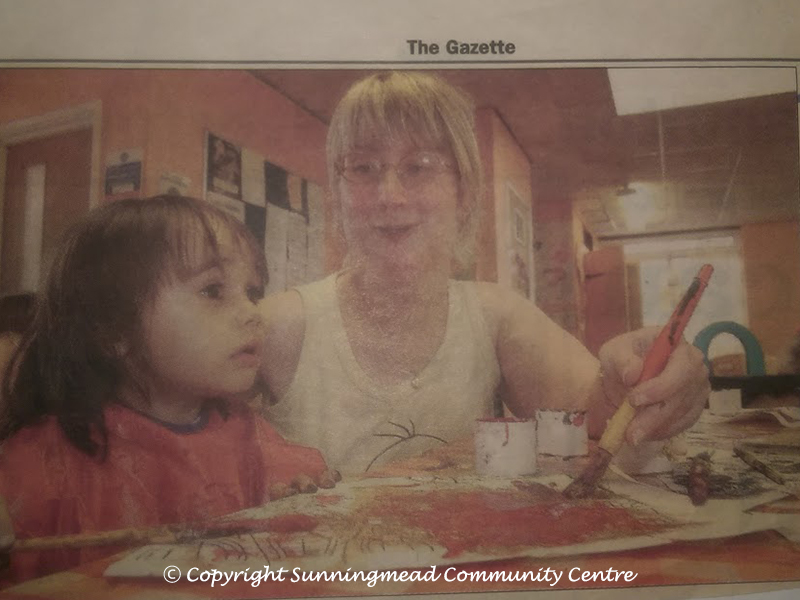 Volunteers award October 2003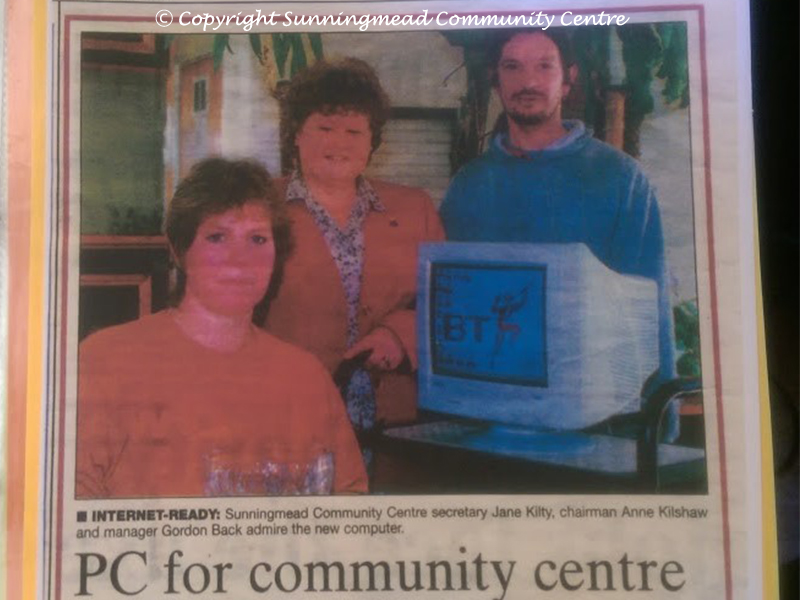 PC for Community Centre April 6th 2001
Sunningmead Community Centre in Tiverton has been awarded an internet-ready PC and one year's access to the internet by BT Community Connections, a UK wide award scheme helping local communities access the world wide web.  the centre will come online at the end of April, after judges were impressed with the ideas put forward by local residents as to why they wanted the computer.  Sunningmead chairman Anne Kilshaw said "We are absolutely thrilled with our award.  The use of an internet ready computer will greatly benefit the local community, giving the facility of internet access to all who come to the centre."
BT project manager Jason Mann said "this year long scheme aims to give to as many people as possible access to the internet and allows groups to develop their projects using easier and more effective methods."
Cash Boost for Community Centre – The Star – September 15th 2000
The Sunningmead Community Association in Tiverton is celebrating another lottery windfall, this time for £156,650.
The award from the charities board follows a previous grant of £275,285, which enabled the Association to purchase the community centre in Lazenby Road.
The new money will be used to employ a full time volunteer coordinator for three years.  The worker will be responsible for providing advice and support to local volunteers and to help get the projects at the centre off the ground.
Money is also being made available for a full time receptionist/clerical worker, so the centre can be open all the time, and to increase the hours of the centre manager, Lindy Booth, who is credited with its success to date.
Jane Kilty, secretary of the association said, "This will make a tremendous difference to the centre and will mean a lot more can happen for local residents. There are so many good ideas put forward for people about things that could happen but to date it has been difficult to put them all into practice.  Having someone dedicated to supporting local people's ideas, will help to make things happen."
The centre has been open for just over a year and has had 2500 people attending various activities.
it is regularly used by the youth club, and for line dancing, ballroom dancing, yoga, scrabble and bingo meetings.  Pool, table football and table tennis are available for general use and the hall can be hired for functions.  There are also other rooms that can be hired for meetings and training courses.
Jane said the National Lottery grant can only be spent on salaries and as a result of this the association still needs to raise funds to help keep the centre up and running.
"Volunteers are always welcomed at the centre and now there is money to pay for child care and respite care if required.  There is also training available for volunteers to increase their skills and experience so if you have never thought of being a volunteer before, then now is the ideal time to do it."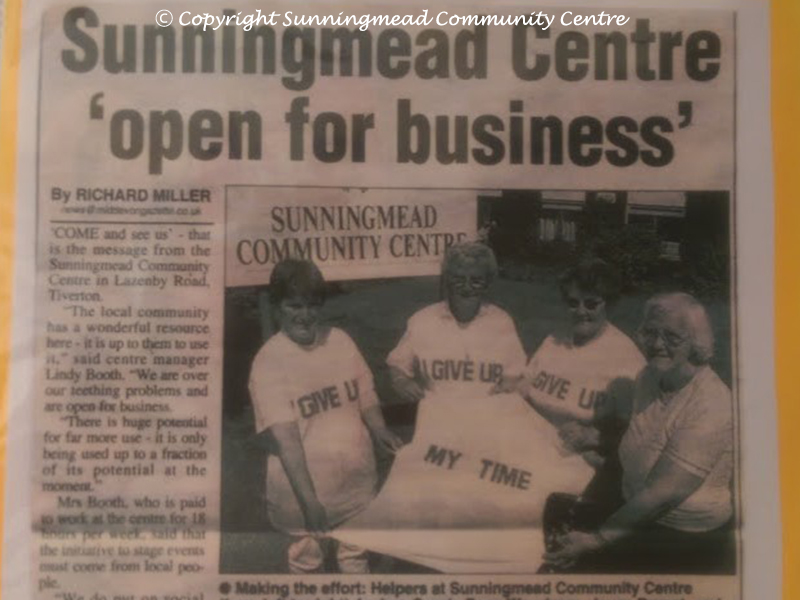 Sunningmead Community Centre "Open for Business" – June 13th 2000
"Come and see us" – that is the message from the Sunningmead Community Centre in Lazenby Road, Tiverton.
"The local community has a wonderful resource here – it is up to them to use it." said centre manager Lindy Booth, "We are over our teething problems and are open for business.   There is huge potential for far more use, it is only being used up to a fraction of it's potential at the moment."
Mrs Booth, who is being paid to work at the centre for 18 hours a week, said that the initiative to stage events must come from the local people.
"We do put on social events like the summer fete but we are here as a community resource and want people in Tiverton and surrounding areas to use the centre to put on their own events."
The centre, a former school, opened just under a year ago with the aid of a £185,000 Lottery grant.
During the winter, heating problems meant some activities had to be put on hold but now the heating is back up to scratch, thanks to a £16,000 repair job.
"We are going forward slowly but surely and are moving towards being self financing." Said Mrs Booth, who handles the day to day running of the centre backed up by a committee of nine.
The centre boasts a main hall, which is large enough for 250 people, an industrial sized kitchen as well as several smaller rooms.  Many facilities, including pool, table football and table tennis are available for use by small groups at a nominal charge.
There is a large playing field area with the tarmac itch and basketball facilities where Mrs Booth hopes to stage training courses with Mid Devon District Council coaching staff in the future.
Home Start Mid Devon, the Prince's Trust and Sunny Days Nursery all have permanent offices in the building.
Centre Plea For Volunteers
Tiverton's newest community centre is getting off the ground – but volunteers are needed to run it.
Sunningmead Community Centre in Lazenby Road, is due to open at the end of July.
About 50 local residents turned up at a meeting last week to suggest activities and groups to set up at the centre.
The meeting was addressed by chairman Anne Kilshaw, secretary Jane Kilty and centre manager Lindy Booth.  "It was a very positive meeting" said Ms Booth.  "We recruited a new treasurer, and some local musicians decided to form a music group.  There were lots of offers of help, including gardening, and we're already recruiting for our summer programme."
Tiverton High teenagers are hoping to run an athletics group at the centre, and local primary schools have also been invited to take part in various activities.
"We would like some volunteers to work with children of various ages." said Ms Booth.
A special volunteer day will be organised to celebrate the centre's opening and attract extra helpers.  "We would like to emphasise that the centre belongs to local residents, and they have to help us run it."
The centre's tearoom will be brightened up with an 8ft mural by Tiverton artist Dudley Weatherley. Mr Weatherley, of Crowden Crescent, painted the 8fy by 5ft 6in mural on hardboard, and will put it in place in July.
It depicts a horse drawn barge coming through Snake Wood on the Grand Western Canal, and fits in with the tea room's theme – The Barge.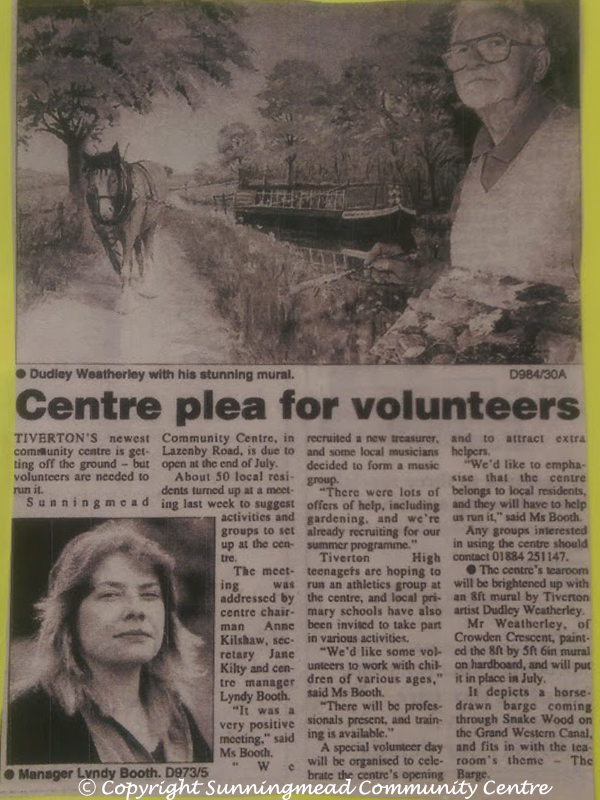 Contact Us
Sunningmead Community Association
Sunningmead Community Centre
Lazenby Road
Wilcombe
Tiverton
Devon
EX16 4AL
Telephone: 01884 251147
Email: sunningmead@outlook.com
Social Media